Wenn mit rosa Keramik gearbeitet wird, sollte das Zirkongerüst bereits entsprechned eingefärbt sein.
I you want to work

with pink

ceramic

,

the

zircon

should be already

inked

.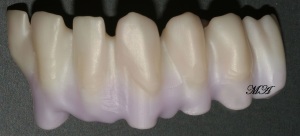 Hierzu empfiehlt es sich, die Form des Gerüstes so zu gestalten, dass der Übergang von zahnfarbenen Bereichen und Gingiva-Bereichen erkennbar ist.
For this purpose

, it is recommended

to design the

shape

of the frame

so

that the transition

from

tooth-colored

areas

and

gingival

areas

can be seen.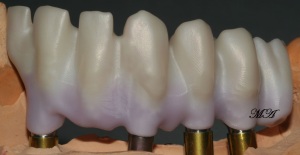 Oft stellt sich dieses Problem besonders bei Implantatarbeiten oder Tumorpatienten.
Often

, we find this problem

especially in

implant work

or tumor

patients.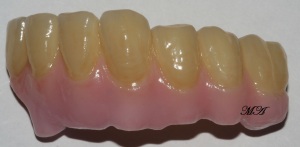 Wenn das Gerüst eingefärbt ist, ergibt sich für die Gingivabereiche eine deutlich größere Tiefenwirkung.
If

the frame

is colored

, the result for

the

Gingiva-areas show

a much greater

depth.
Die Einfärbeflüssigkeiten für das Zirkon sind in verschiedenen rosa Farbstufen erhältlich.
The

coloring liquids

for the

zircon

are available in different

pink

color levels

.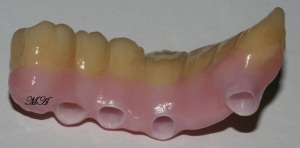 Ebenso finden sie bei unterschiedlichen Herstellern unterschiedliche Farbtöne.
Also,

you will find

various colors from different

manufacturers

.
Hierdurch verbessern sie das Ergebnis ihrer Versorgung deutlich und erreichen eine sehr viel bessere Ästhetic.
In this way,

you

improve

the outcome of your

supply

significantly

and

achieve

a much better

aesthetic

.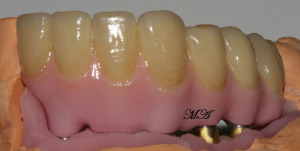 Weitere Tips und Tricks zu dieser Technik finden sie in unseren Videos und Fachvorträgen.
More

tips and tricks for

this technique

can be found

in our videos

and

presentations

.
Ich danke ihnen für Ihre Aufmerksamkeit !
I thank you for

your

attention!
Michael Anger