In Fällen, in denen man kein Metall verwenden kann, empfehle ich PEEK für die Basis herausnehmbarer Prothesen.
In

cases where

you can

not use

metal

, i recommend

PEEK

for the base of

removable

prostheses.
Hierbei sollte man mit gefrästen Lagern und Schubverteilern arbeiten.
Hereby you

should work

with milled

bearings and

thrust

distributors.
Für diese Arbeiten ist es oft zeit- und kosteneffektiver,  heissgepresstes PEEK zu verwenden.
For this constructs

it is often

time-consuming and

more cost effective to

use

hot

-pressed

PEEK.
Für diese Material ist eine stabile Gestaltung zwingend notwendig und Deformationen vorzubeugen.
For these

materials

a stable

design

is absolutely necessary to

avoid

deformations.
Ein echtes Interlock mit einer Omega-Fräsung ist hier zu empfehlen.
A real

interlock

with

an omega

–

milling

is recommended

here

.
Für die Friktionselemente können alle handelsüblichen Kunststoff-Geschiebe verwendet werden.
For

the friction-parts

all commercially available

plastic

attachment

can be used.
Diese Strukturen sind nur schwer fräsbar. Außerdem können frästechnisch keine Retentionsperlen gefertigt werden.
These structures

are difficult

to machine

.

In addition, no

retention beads

can be manufactured

by milling

.
Für solche Arbeiten sind besonders harte PEEK-Arten zu verwenden.
For

such works,

particularly hard

PEEK

types shall be used

.
Die Geschiebe-Einsätze werden in das PEEK-Gerüst eingeklebt.
The

attachment

inserts are

glued into the

PEEK

framework.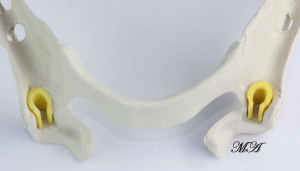 Die Fertigstellung erfolgt mit herkömmlichen Methoden.
Completion

is carried out using conventional methods.
Mehr über diese Technik und weitere Tips & Tricks finden sie in unseren Filmbeiträgen.
More about this technique and other tips & tricks you can find in our film clips
Ich danke ihnen für ihre Aufmerksamkeit !
Thank you for your attention !
Michael Anger
Zurück zur Übersicht :
Back to the Overview :