Ersatzprothesen werden benötigt, wenn die bestehende Prothese des Patienten in größerem Umfang restauriert oder repariert werden muß oder der Patient für den Fall einer Beschädigung eine Reserve bereit haben möchte.
Replacement-Prostheses

are required if

the existing

prosthesis

of the patient must

be

restored

or repaired

on a larger scale

, or the patient

wants to have

ready

a

reserve in case

of damage.
Zuerst benötigen wir Abformungen von Oberkiefer und Unterkiefer…
First, we

need

impressions

of

the upper

and lower jaw…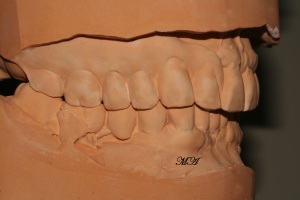 ..sowie eine Abformung des Kiefers mit den Primärteilen.
..and

an impression

of the jaw with

the primary parts

.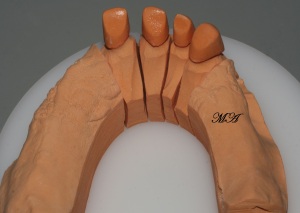 Mit dieser Abformung stellen wir 2 Modelle her – ein Stumpfmodell mit freigelegten Stümpfen …
With this

impression

, we produce

two

models – a

stump model

with exposed

stumps

…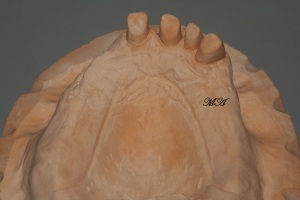 ..und ein ungesägtes Modell in welchem wir einen palatinalen Abschlussrand eingravieren.
..and

a non

-s

aw

model 

in which

we

engrave

a

palatinal

end-edge

.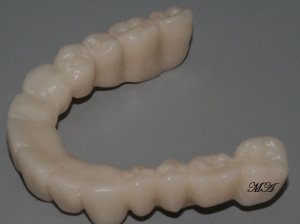 Mit CAD/CAM-Technik wird ein kompletter Zahnkranz angefertigt…
With

CAD /

CAM technology

, a complete

tooth-row

is made

…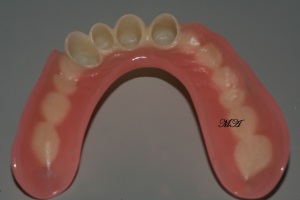 ..und mit rosa Kunststoff ergänzt.
..and completed with pink plastic.
Auf diese Art erhalten wir eine 1 zu 1 Kopie der bisherigen Prothese.
In this way

we obtain a

1: 1 copy

of the previous

prosthesis.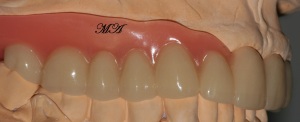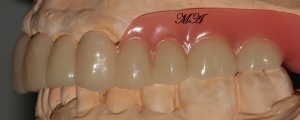 Weitere Informationen zur Herstellung von Ersatzprothesen finden Sie in unseren Videos.
More information on the manufacture of replacement prostheses can be found in our videos.
Vielen Dank für Ihr Interesse
Thank you for your interest
Michael Anger