Hier zeigen wir verschienene Lösungen im Steg – Verfahren.
Here we show different solutions in bar-proceedings.
Hier ein gefräster, frikativer Steg mit zusätzlichen Kugel-Kopf-Ankern (VarioSoft3)
Here is a milled, friction-bar with additional spherical head anchors (VarioSoft3)
Der Auftraggeber bestellte einen 0° gefrästen NEM-Steg auf Implantaten. Für zusätzliche Sicherheit sollten hierbei weitere Friktionselemente eingearbeitet werden um nachträglich den Halt verbessern zu können.
The customer ordered a 0 °-milled NP bar on implants. For added security, additional friction elements should be incorporated in order to subsequently can improve the grip.
Bei NEM-Stegen ist zwar grundsätzlich nicht von einem Friktionsverlust auszugehen, aber der Kunde ist König.
In NP-bars although in principle not expect a loss of friction, but the customer is king.
Um in der vertikalen Relation keine Platzprobleme zu erzeugen, wurden diese Friktionselemente palatinal im Schatten des Steges versteckt.
In order not to create problems of space in the vertical dimension, this friction-elements were hidden palatal in the shadow of the bar.
Der Stegreiter wurde ebenfalls in der Frästechnik hergestellt und bietet eine gleichmässige Friktion auch ohne die Kugel-Kopf-Matrizen.
The bar-frame was also produced in the milling technology and provides a uniform friction even without the ball-capita-matrices.
Diese Präsentation wir unterstützt von dem Fräszentrum :
This presentation is powered by the milling-center:
Nächster Fall / Next Case :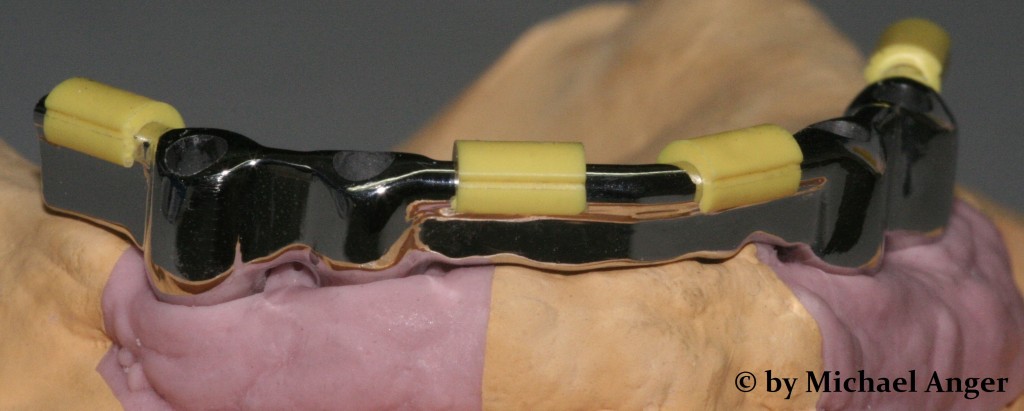 In der ersten Serie unserer Vorstellung sehen sie einen Steg im Schlüsselloch-Design. Als Stegreiter funktionieren konfektionierte Kunststoff-Teile der Firma Bredent oder Preci-Horex.
In the first series of our imagination you see a bar in the key–hole design. For the bar clips work assembled plastic parts from Bredent or Preci-Horex.
Still in Progress
In Bearbeitung…
Zur Übersicht  :
To the Overview :